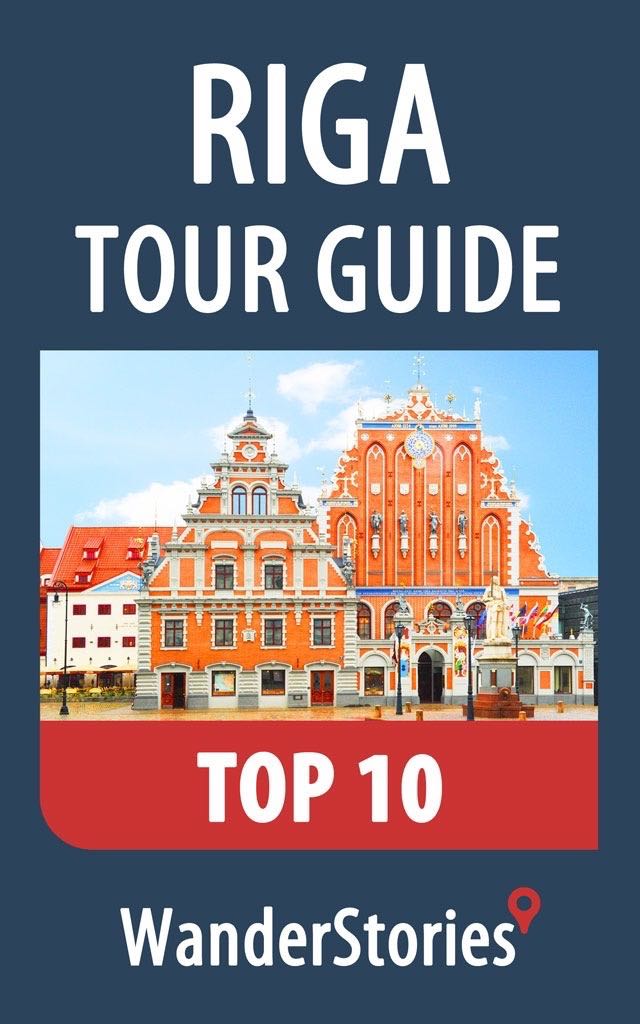 ---
House of Blackheads
St. Peter's Church
Riga Castle
Central Market
Three Brothers
Powder Tower
Big Kristaps
Freedom Monument
Līvu Square
Flag, Coat of Arms, and National Anthem of Latvia
Latvian Holidays
Latvian Jokes
What Latvians Enjoy
---
Welcome to the WanderStories™ tour of the top 10 sights in Riga: the House of the Blackheads, the Dome Cathedral, St. Peter's Church, Riga Castle, the Central Market, the Three Brothers, the Powder Tower, Big Kristaps, the Freedom Monument, and Līvu Square. We are now ready to take you on your personal tour.
We will also tell you additional stories about the national symbols of Latvia; Latvian cuisine, holidays, jokes; and about what Latvians enjoy.
WanderStories™ travel guides are unique because our storytelling style puts you alongside the best local guide who tells you fascinating stories and unusual facts recreating the passion and sacrifice that forged the beauty of these places right here in front of you, while a wealth of high quality photos, historic pictures, and illustrations brings your tour vividly to life.
We, at WanderStories™, are storytellers. We don't tell you where to eat or sleep, we don't intend to replace a typical travel reference guide. Our mission is to be the best local guide that you would wish to have by your side when visiting the sights. So, we meet you at the sight and take you on a tour.
Our promise:
• when you visit the top sights in Riga with this travel guide you will have the best local guide at your fingertips
• when you read this travel guide in the comfort of your armchair you will feel as if you are actually visiting the top sights in Riga with the best local guide
The historical center of Riga is in the UNESCO World Heritage List. There is only one thing to do now – visit!
Let's go!
Your guide, WanderStories
Once you have read this book please review it, we truly appreciate your feedback.
Please subscribe to the FREE WanderStories™ travel e-magazine, Armchair Travel Guide at: wanderstories.com/travel-magazine
---
Dome Cathedral (No. 2)
Address: Doma laukums
56°56'57.6"N 24°06'18.3"E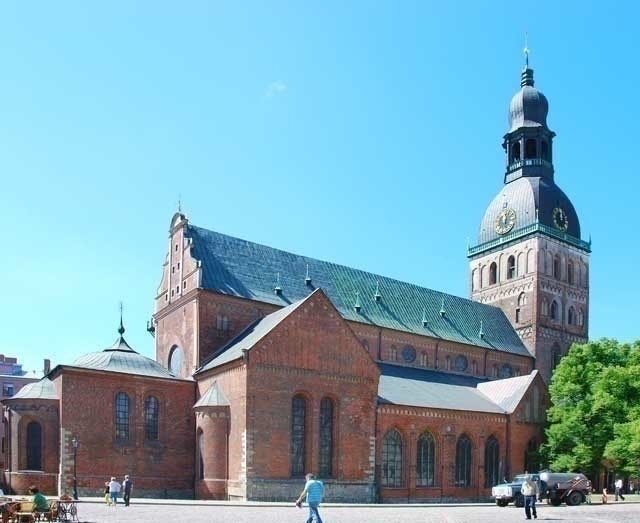 Riga is, and always has been, the largest city in Latvia. It is also the largest city in all of the three countries of the Baltic States, as well as the most urbanized metropolis of the region. If Riga is the center of Latvia and conceivably also of the Baltic area, Dome Square is certainly the heart of Riga. It is also the most central spot in the Old City and has been included in the UNESCO list of World Cultural Heritage monuments.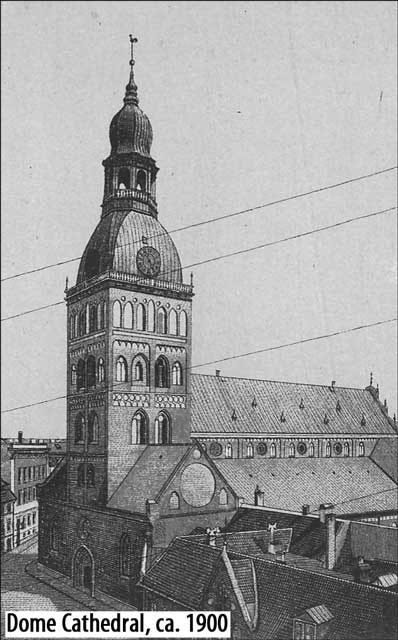 The name of Dome Square comes from the Dome Cathedral, which got its name from the Latin Domus Dei, the Temple of God. German Archbishop Albert ceremoniously set the first foundation stone in 1211 and named the building the Church of St. Mary. Names, often new names, were given to places in Latvia by bishops sent to the country by Pope Innocent III in the name of the Virgin.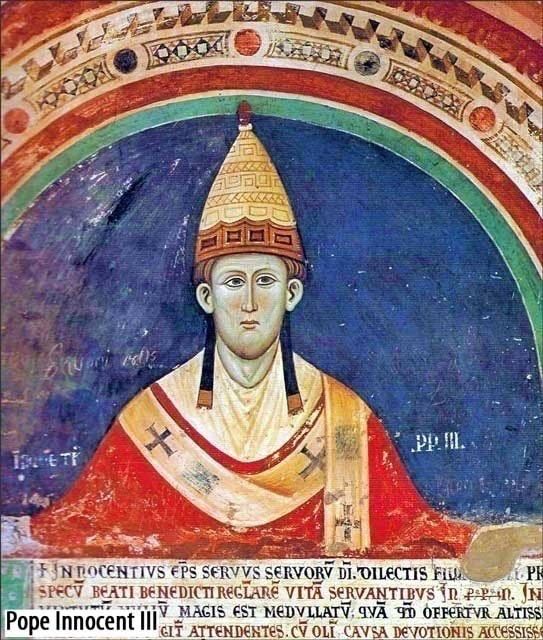 There is also a diplomatic and cultural explanation for this, as the most prominent female goddess of the pre-Christian Latvian tribes of that time was Mara, which is similar to Mary. Dating back to pagan and early times of Christianity the Land of Mara was and still remains an unofficial poetic name for Latvia. It is also interesting to know that Latvia was one of the last two countries in all of Europe to accept Christianity. The very last one to become a Christian land was Latvia's next-door neighbor Lithuania.
The Dome Cathedral, along with Riga Castle, was built by the Germans. This building was to become a first tiny seed of Christianity planted in barren soil so that the new religion could start growing in the hearts of the Latvian people. Consequently, it had to be built in an impressive and grand manner, with walls of brick and boulders. One of the reasons why the members of the Līvu tribe living in this area during the 13th century initially welcomed the German knights and missionaries was because of their desire to be able to use the brick and stone structures built by masons.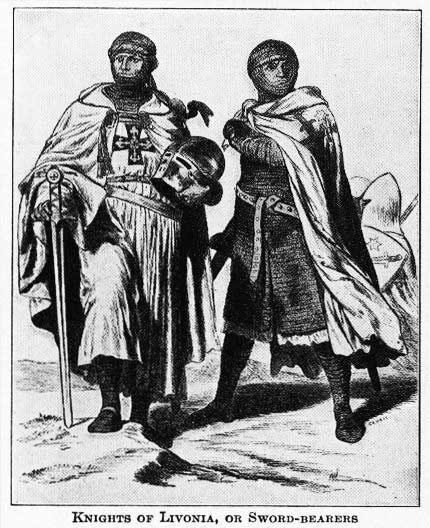 Prior to the arrival of the Germans, only timber had been used as building material, and timber is inherently dangerous. The strong German masonry walls kept the locals safe from the wars that took place between the local tribes.
Stone churches and castles became the symbol of German Christian power. Gradually the German vassal state of Livonia was formed. The name of Livonia was directly derived from the name of the Līvu tribe, the first group of inhabitants of Latvia that was baptized in the Dome Cathedral.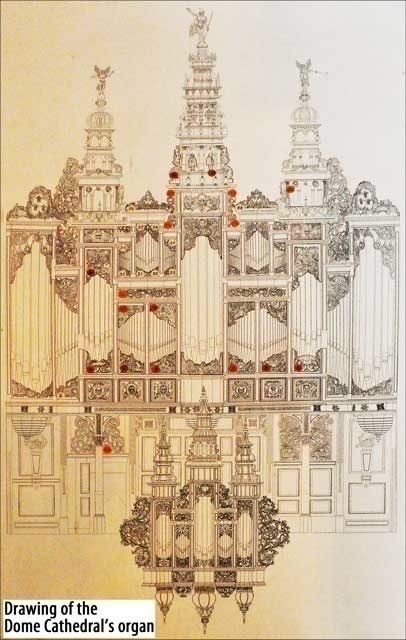 As time passed, the Riga Cathedral was expanded and reconstructed up until the 19th century. One of the most significant events took place in 1884, when the famous organ with its 6,718 metal and wooden pipes, was assembled in the cathedral by Walker & Company. This organ is magnificent. It has a broad sound register, one hundred twenty-four different sounds can be made with the instrument.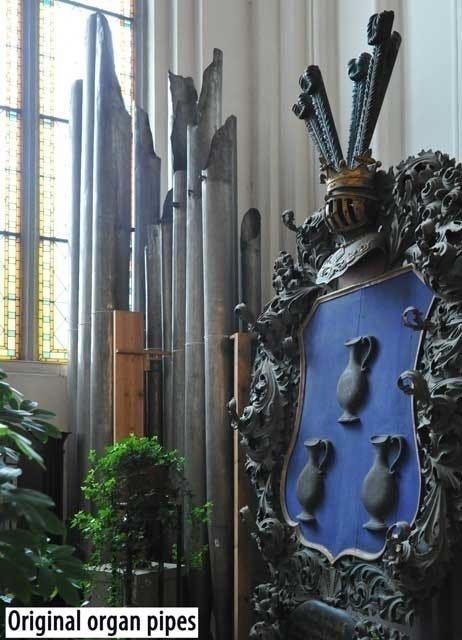 This very organ saved the Dome Cathedral from being vandalized during the Soviet occupation. During that period of atheism, a number of churches were closed down and turned into secular buildings, often being converted into warehouses. Although the Lutheran congregation was banished from the cathedral, the building itself was preserved as a concert hall, thanks to the remarkable organ.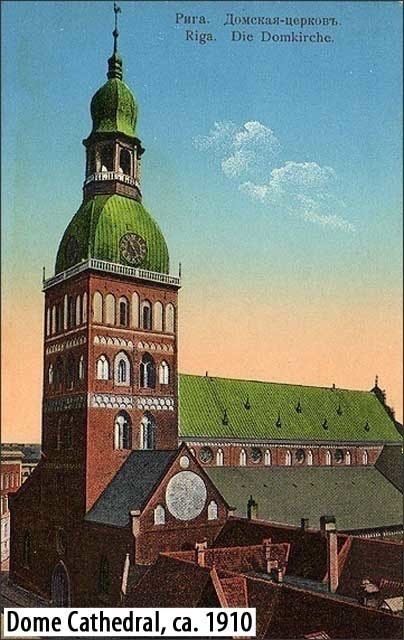 During the so-called Barricade Days in January 1991, when Latvia was fighting to regain the independence that the Soviet Union had taken away, one of the headquarters for the freedom fighters was situated inside the Dome Cathedral. It also provided a location for medical personnel.
Nowadays, famous organists give concerts here, and Lutheran services are also held in the cathedral.
The Lutheran religion remains the dominant Christian confession in Latvia, although the number of Lutherans is only slightly higher than that of the Catholics. The number of Russian Orthodox believers is also slightly smaller than that of the Lutherans.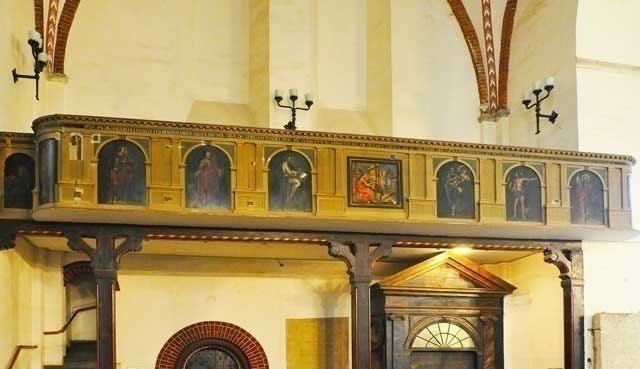 Unfortunately, due to the fierce Reformation struggles after the 16th century, when Luther's rather ascetic followers "called the tune" in Livonia, the most splendid decorations were removed from the interior of the cathedral, and it assumed the fairly puritan appearance it has today. The northern portal of the cathedral remains a valuable example of early Gothic architecture from the 13th century.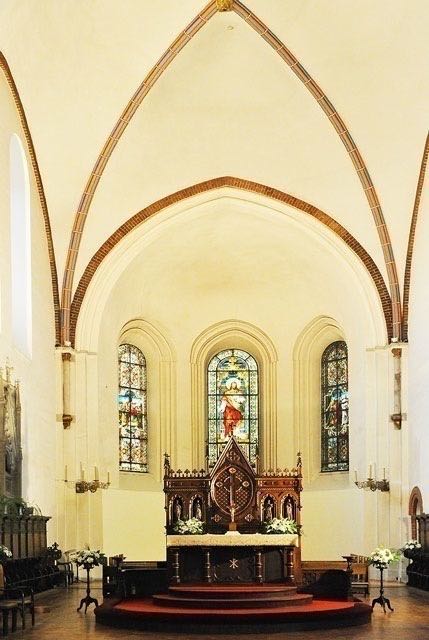 Other noteworthy features of the interior are the pulpit from 1641, and the stained glass windows from 1883.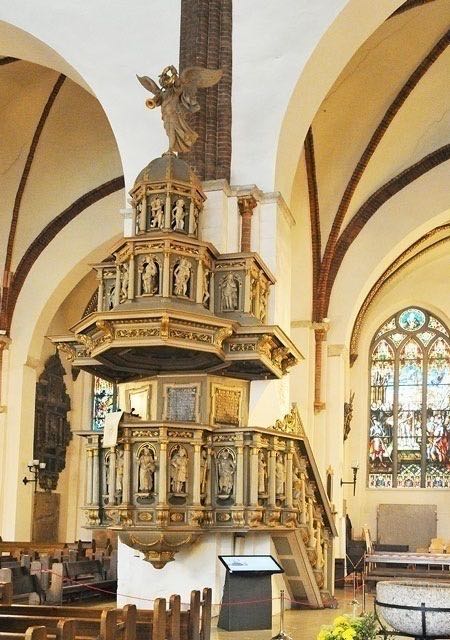 As you stand on Dome Square, take note of the fact that the Dome Cathedral seems to have settled low into the ground. It once stood on higher ground, but since medieval times, many things have been constructed, dismantled, and reconstructed, so that an archaeologically interesting layer 2 meters (6.6 feet) deep has formed around the base of the cathedral. Eight hundred years of history right beneath your feet!
---
My goodness, did we overeat…again! No matter how you say it in whatever language, this exclamation, repeated over and over again at all Latvian celebrations, expresses both self-admonishment as well as satisfaction for having been at a true Latvian celebration. Latvians genuinely appreciate a good meal!
Latvians can also cook quite well. That's why most of the foreigners who have spent more than several days in Latvia start to realize that their trousers and skirts are feeling a bit tight. No offense intended toward the few Latvian vegetarians, but this is pretty much a meat-eaters' country. On the basis of a recent opinion survey, it turned out that speķa pīrādziņi, a Latvian pastry, filled with dried pork, was chosen to be national dish No. 1. Just think of bacon rolls.
The unofficially acclaimed second favorite dish is pork chops or karbonāde with fried potatoes. Say hello to calories, since pork is the most popular meat in Latvia! It is true that the number of chicken-lovers has increased since the beginning of the 1990s. After all, chicken is healthier than pork, and the fact that chicken can be bought for about half of the price of pork seems to influence many people.
Another meat dish, although in no way related to the historical traditions of gastronomy in Latvia, needs to be mentioned, this being shashlik, known to English speakers as shish kebab. In Latvia, shish kebab is referred to by its Caucasian name shashlik, while in the Mediterranean area, it's known as the Greek souvlaki. Some jokers say that shashlik was the only good thing introduced during the Soviet era. These days, people buy shashlik mostly in supermarkets, already marinated and ready for the skewer. When you see long lines of cars leaving Riga during the picnic season from April till October, you can be pretty sure that there is a bucket of shashlik in at least every other car.
Should you want to get a more hands-on experience in respect to Latvian culinary traditions, you should definitely visit one of the Lido restaurants. This restaurant could be called more accurately a Latvian food hall, with its broad selection of food. The leading Latvian restaurants also offer quite a few historical Latvian dishes such as gray peas with pig snout and sauerkraut, that is cabbage cut fine and fermented in a brine made of its own juice with salt.
The Latvians love certain local milk dishes, some of which, for example, are based on curds. The oldest Latvian milk dish is skābputra or sour porridge. This porridge made of sour milk is eaten mostly in Kurzeme, the western part of Latvia. Another old delicacy from Kurzeme is sklandu rausis, a muffin with a sweetened stuffing of grated carrots. You can still buy sklandu rausis from time to time, but not many people prepare the sour porridge anymore. For some reason, it is hard to find a volunteer willing to taste the porridge.
Meanwhile in Vidzeme, the northern part of Latvia, an old delicacy is herring boiled in milk, perhaps an acquired taste. As a rule, though, we sincerely recommend you don't mix the delicious Latvian fish and dairy specialties. Eat them separately!
You should surely sample the cottage cheese based Kārums sweets, one of the favorite articles sold in Latvian supermarkets. This delicious dessert is exported to other countries as well. For example, Latvians' neighbors Estonians really love this product.
The favorite fish product of all is šprotes eļļā, the smoked sprats canned in oil. Truly delicious! Another Latvian fish delicacy is lamprey in aspic, which can be bought both fresh and canned. It goes perfectly with a good Latvian beer.
But which brand of beer exactly? Let's skip the commercial, although it would be difficult to find a bad tasting Latvian beer, many brands have won awards in various well-known international beer competitions.
Among other alcoholic drinks, another unique Latvian specialty is the famous Riga Black Balsam, a bitters, its recipe held in perfect secrecy for several hundred years. It is a rather bitter herbal liqueur, somewhat reminiscent of the well-known German Jägermeister liqueur. Riga Black Balsam is easy to recognize wherever it is sold because of its original brown clay bottles. This drink is delicious with coffee and various cocktails, prepared by the barmen in Riga's pubs. Most Latvians drink it with tea, though. Riga Black Balsam has deservedly received awards at a number of international competitions. The company that makes it, Latvijas Balzams, got its name after the drink.
As a matter of fact, the world famous Russian vodka Stolichnaya is one of the main products of Latvijas Balzams. Even though most people aren't aware of this, most of the Stolichnaya or Stoly sold around the world is made in Riga. Latvijas Balzams is the only company with the rights to make this world-famous brand outside Russia. At the same time, the Russian national vodka company has been trying very hard for years to prohibit the production of Stolichnaya in Riga.
A less popular, but not less interesting Latvian alcoholic drink is Allažu ķimelis or Allasch Kummel, an intensely sweet liquor made with caraway seeds.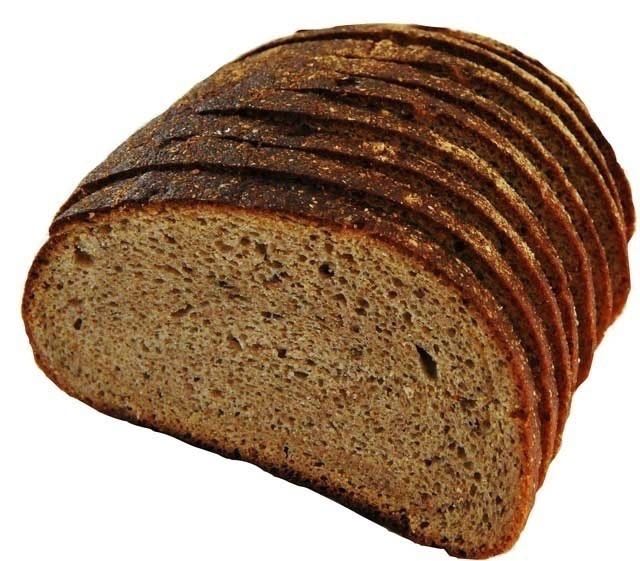 Finally, it would be inappropriate to talk about Latvian cuisine without mentioning the very soul of the cuisine, the black bread, or as the Latvians call it, rupjmaize. It's baked with rye flour, and when made by a real master, stays fresh for as long as two weeks without preservatives. Until the 20th century, rye bread dominated in Latvia. White bread was regarded almost a delicacy, for very little wheat was grown in Latvia, and the grain had to be imported.
Now Latvians eat white bread more than black bread, although it seems that affection for this underpinning of Latvian national gastronomy will never fade entirely. Many Latvians take a loaf of black bread with them when they travel across the world, either for eating or as a gift for compatriots living abroad. Some Latvians who have returned from far away say that they have come back just because they hungered for the good old Latvian rupjmaize.
---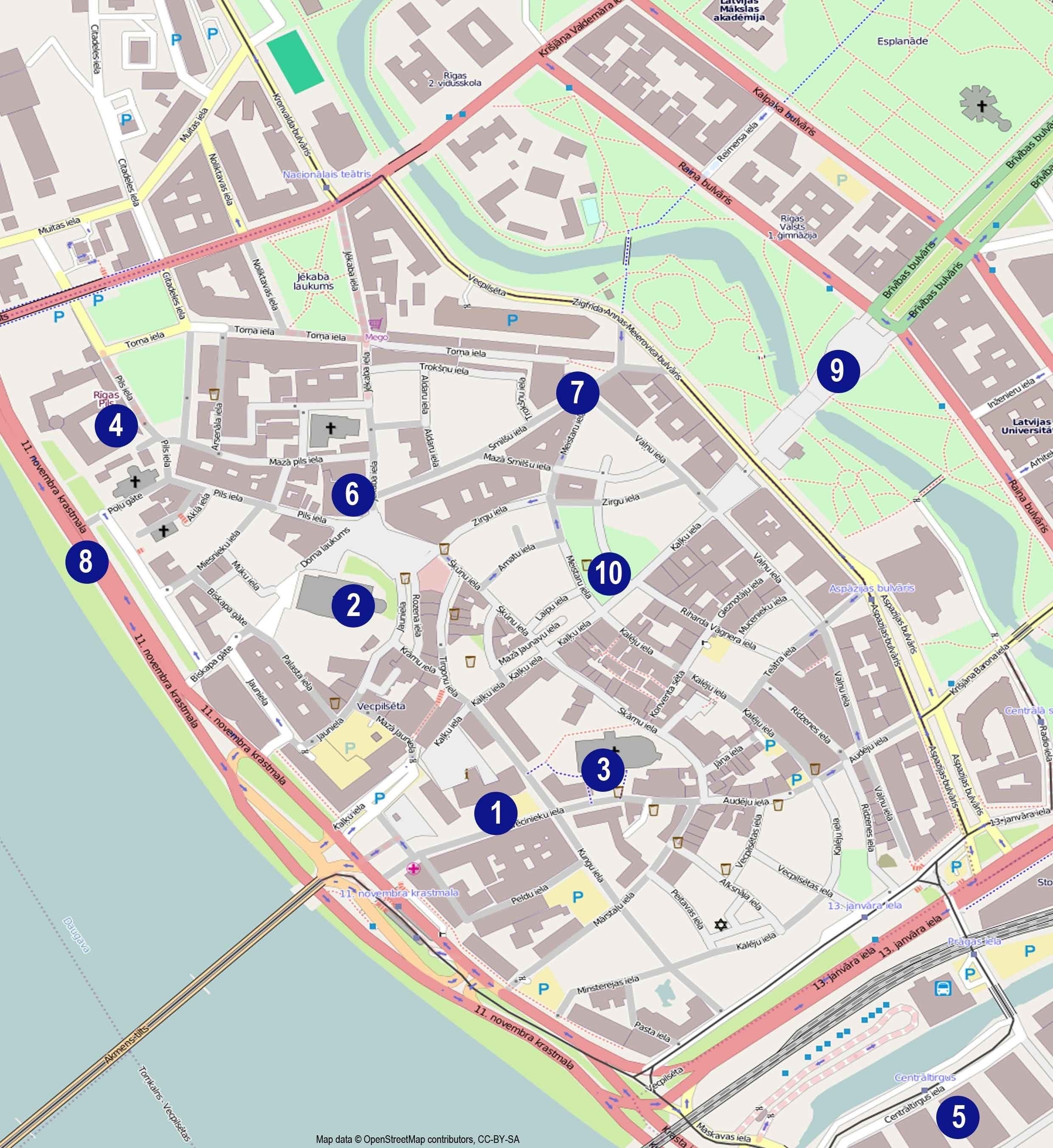 1. House of the Blackheads
3. St. Peter's Church
4. Riga Castle
5. Central Market
6. Three Brothers
7. Powder Tower
8. Big Kristaps
9. Freedom Monument
10. Līvu Square
---
Travel guides that show you around and tell stories, not just history.
Dear Traveler, please review this book, we truly appreciate your feedback.
Are you exploring famous landmarks in cities around the world? Are you looking for more insight than a typical guidebook provides you? Perhaps you would like your own personal tour guide but prefer to visit places at your own pace? Are you curious about how people lived in those palaces and castles? Maybe you just want to understand people from different cultures better? Well, we have exactly what you need, we tell WanderStories™.
WanderStories™ is the best local guide for you, showing you around and telling stories of famous and interesting sights, in an e-book on your tablet, smartphone, or computer.
WanderStories™ travel guides are unique because our storytelling style puts you alongside the best local guide who tells you fascinating stories, while a wealth of high quality photos, historic pictures, and illustrations brings your tour vividly to life.
WanderStories™ travel guides are e-books that include lots of photos, maps, and illustrations and tell you the stories behind the history of the places you will visit, like the best personal tour guides would do. In fact, they do it so well that you can visit the most extraordinary places around the world without even leaving the comfort of your armchair. Wherever you are, you can experience the excitement of history being recreated around you as the story unfolds.
You will get to know how real people, emperors and sultans, concubines and eunuchs, slaves and executioners, lived in the palaces you will visit; what gods the monks worshipped in these temples; how generals and soldiers, crusaders and gladiators fought and won…or died. You will learn about local traditions and customs, holidays and festivals, cuisine, even jokes.
Whether you're at home, on your travels, or walking in the historic setting itself, WanderStories™ is the best personal, local guide on your tablet, smartphone, laptop, or computer.
We, at WanderStories™, are storytellers. Our mission is to be the best local guide that you would wish to have by your side when visiting the sights.
Our promise:
• when you visit a city with a WanderStories™ travel guide you will have the best local guide at your fingertips
• when you read a WanderStories™ travel guide in the comfort of your armchair you will feel as if you are actually visiting the best sights in the city with the best local guide
Please get WanderStories™ travel guides at: wanderstories.com
Please subscribe to the FREE WanderStories™ travel e-magazine, Armchair Travel Guide at: wanderstories.com/travel-magazine
Riga audio guide is available at: audioguideworld.com
Sample from: Riga Stories Top 10
Copyright © 2014 WanderStories
Photos and illustrations provided by WanderPhotos™
All rights reserved. No part of this book may be reproduced or distributed in any form by any electronic or mechanical means, including information storage and retrieval systems without permission in writing from the publisher.
Disclaimer. Although the authors and publisher have made every effort to provide up-to-date and accurate information, and have taken all reasonable care in preparing these publications, they accept no responsibility for loss, injury or inconvenience sustained by any person relying on or using our publications, and make no warranty about the accuracy or completeness of their content and, to the maximum extent permitted, disclaim all liability arising from their use.